On Sale
Pure Hemp Seed Oil (Unflavored, 2-Pack)
Sale price
-

0%
Regular price
$39.95
COLD-PRESSED HEMP SEED OIL
Our Unflavored Hemp Seed Oil Drops are Made Simply: Just Cold-Pressed Hemp Seed Oil in Easy-to-Take Drops!

Each bottle comes with 30 servings. Available in packs of two.
Made simply by cold-pressing hemp seeds from the hemp plant, our Pure Hemp Seed Oil contains just pure hemp seed oil! Try this easy-to-take liquid today.

Frequently Asked Questions
A: Since our product is just hemp seed oil, it may begin to clump and crystalize in temperatures around 40 degrees Fahrenheit and below. Depending on the temperature and time in different temperatures, it may take some time for the oil to reconstitute in room temperature. Ultimately, this is normal, and the hemp oil should go back to a liquid once it gets back to a warmer temperature.

A: MaryRuth's Pure Hemp Seed Oil Drops use cold-pressing to extract the oil from the hemp seeds. Hemp Seed Oil generally does not contain substantial amounts of cannabinoids.

A: The only difference between these two products is that the Pure Peppermint Hemp Seed Oil contains organic non-GMO vegan peppermint oil, while the Pure Hemp Seed Oil does not.

A: Our Pure Hemp Seed Oil is made by cold-pressing the seeds from the hemp plant. Hemp Seed Oil generally does not contain substantial amounts of cannabinoids.
Our CBD tinctures are from the aerial parts of the hemp plant. MaryRuth's Hemp-Derived Broad Spectrum Phytocannabinoid Extract contains two dominant cannabinoids, Cannabidiol (CBD) as the major constituent and Cannabigerol (CBG) as a minor constituent. It also contains trace cannabinoids such as: Cannabichromene (CBC), Cannabinol (CBN), Cannabidivarin (CBDV).
Ingredients
Per Serving (1ml): 166.66 mg Organic Hemp Extract. Other Ingredients: Organic Hemp Seed Oil.
Suggested Use
Shake well before each use. Take 30 drops (approximately ⅔ dropper) directly by mouth or add to your favorite smoothie or other beverage. Take up to 2 times daily or as recommended by a physician or healthcare professional.

Store in a cool, dry place. Avoid touching the dropper to your mouth to preserve the quality of the supplement.

NOTE: Some products may interfere with certain medications or complicate health conditions. If you are taking any medications, suffer from any health complications, are under the age of 21 or over the age of 65, or are pregnant or lactating, please consult with a physician or healthcare professional prior to use.

*These statements have not been evaluated by the Food and Drug Administration. This product is not intended to diagnose, treat, cure or prevent any disease. Since all bodies are different, an individual's nutrient needs are unique to their body. As such, results may vary. Individuals under 21, seniors over 65, pregnant and lactating women should always consult with a physician or healthcare professional prior to use.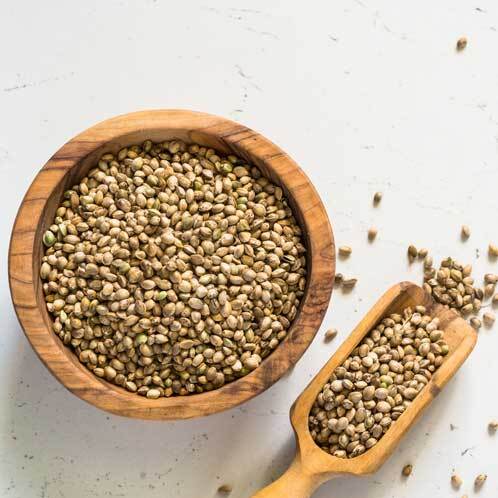 Key Features
Cold-Pressed
Our hemp seeds are cold-pressed for great quality.
Simple Ingredients
With the only ingredient being Organic Hemp Seed Oil there are no fillers or additives!
Easy-To-Take
With hemp seed oil in an easy-to-take tincture, you can easily drop out the suggested dose.